---
Professional Document Capture solutions
for the Service Industry
---
Do you receive huge amounts of documents that need to be processed? Both paper and electronic documents?
Tired of the time-consuming, error-prone manual
encoding of documents?
Do you have multiple types of documents and
various business processes to feed?
You want to speed up document processing
to fulfil your obligations & SLAs?
You already have a technology partner,
but you are thinking of changing?
Enjoy flexible pricing models (annual volumes, one-time volumes, subscription, transactional) and reliable project cost calculation
Get not only the software but also an experienced partner who knows your business needs and stays with you along the way
Get full control and transparency by keeping audit-ready logs of all actions
Automatically classify your documents and capture all key indexes
Optimize the configuration efforts in a multi-tenancy environment
Reduce the cost of data entry drastically
Get rid of encoding errors
Multi-Application & Multi-Tenancy
One installation to run many capture projects in parallel
Multilingual
Recognition of 137 languages from Asian, Cyrillic and Latin character sets
Business Intelligence
Process optimization via reliable tracking, tracing and audit-ready logs
Scalability
The platform is optimized for high-speed performance and highly scalable, from a few documents to hundreds of thousands per day in a client server environment
Automatic Document Separation
Documents can be separated either manually using separators such as barcodes or automatically using the Intelligent Document Separation feature
---
The IRIS system allows us to handle our increase in patent management paper volume in a more efficient and accurate way. All this happens with the existing staff.
---
We went for IRIS because their solution stood out as an innovative, highly efficient solution platform: processing various kinds of documents, flexibility and scalability.
---
IRISXtract™ was truly a superior, more advanced and extensive solution with which we could provide an outstanding service to our clients.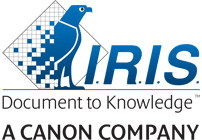 ---
IRIS AG
Heussstrasse 23
52078 Aachen
Germany
---
IRIS Inc
955 NW 17th Avenue, Unit A
33445 Delray Beach, Florida
USA
---